When it rains, the world takes a long exhale. Mother Nature sighs, wilts, lets her feelings run wild. She sometimes falls sideways, whimsical and adventurous. Other days she's trickling slow, taking her sweet time to ponder the seasons and flow with the wind. The north shore is a treasure trove of magical forests, competing with Lake Superior for attention, yet wholly content by their inland home. Cradled by cedars and pines, I was prancing within a magical nook of forest: a mossy heaven of wiry trees that longed for interaction. They longed to be felt, seen, known, leaned on. The scent of petrichor was strong. The chilled rain embraced the needles and my fingertips, leaving them cupping heat from my breath and nestling in the warm pockets of my beloved raincoat.
When was the last time you embraced melancholy? I like to think of the word as pensive, woeful, gloomy in the highest sense. It's a feeling that stimulates creativity, playfulness, an extra-sensory awareness of your surroundings. A fuel for discovery. Take Stutterheim founder, Alexander Stutterheim. On the Swedish island of Arholma, he unearthed his recently passed grandfather's old raincoat. An artifact of a loved one. A timeless piece imbued with meaning, one to embrace. It was this heavy, functional article of clothing that inspired his first creation, and continues to weave into the designs we know today. It was a feeling of melancholy, of the loss of a loved one yet the discovery of a treasure, that fueled the company's handmade creations. When I was nestled in the woods of the north shore, hugged by my Stutterheim, I felt it. A calm, childlike nostalgia, sadness for days past but gratitude for the moment. It was a dreary springtime playfulness – running from one tree to another, grasping branches, shielding from rain. The canopy of trees consumed me, as if to say, "Yes – go. Climb. Play. Jump. Run – Feel."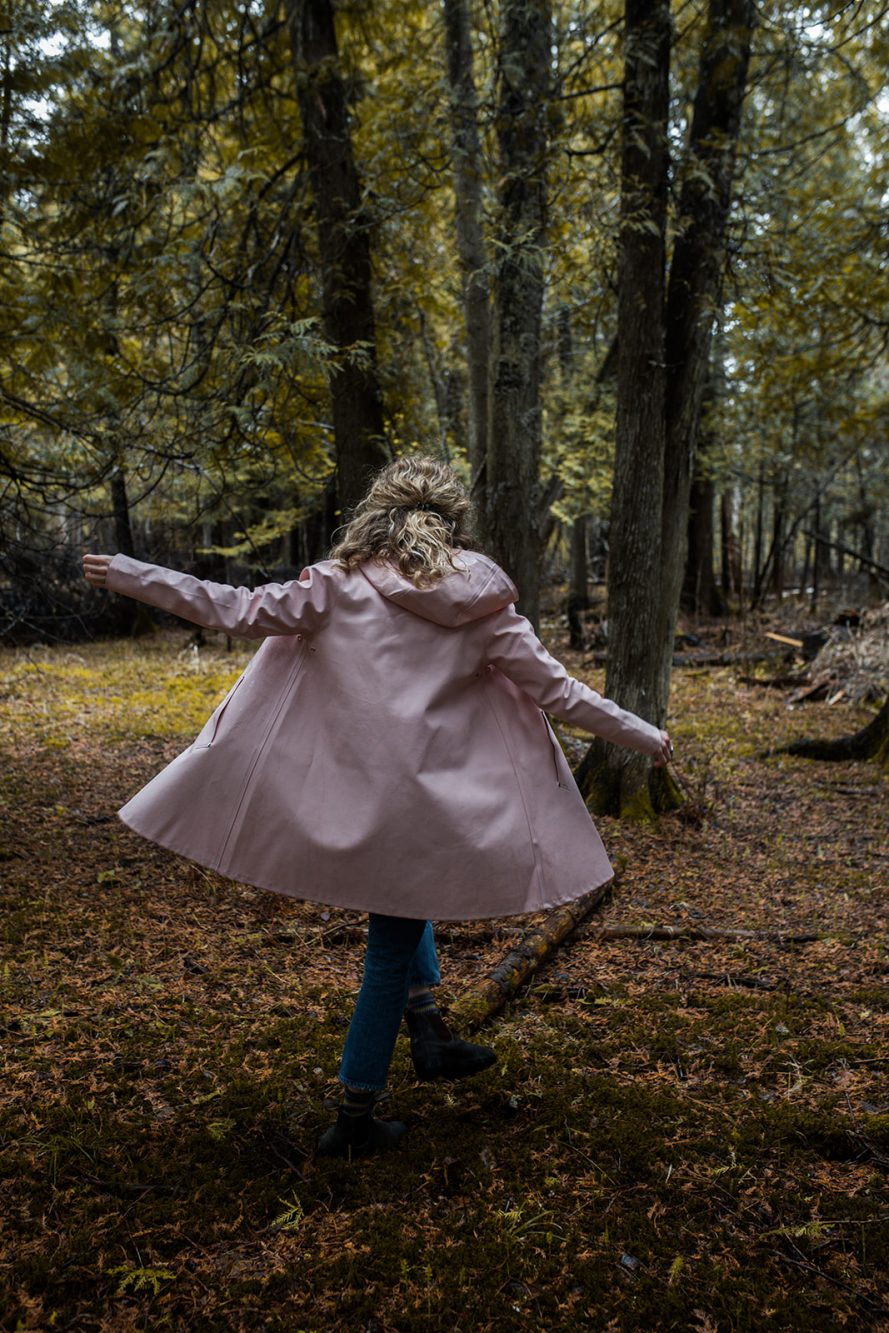 I dirtied up my favorite pale pink Stutterheim coat in no time. It's a muted color, like the shade of springtime herself. Soft, like the earth I tip-toed upon. Thick, like the tree trunks that anchored the climbs. Its handmade, rubberized 100% PVC coating on a cotton/poly membrane keeps the silhouette stylish without skimping on function. The double-welded seams are individually tested, with metal snap closures and cotton drawstrings timeless in their ease of use, stylish and streamlined for any occasion.
When I'm able to fully exist in an experience, I feel powerful. Known. Understood. For me, the right gear is key. Springtime in the north country is a tiny beacon of passing moments that if embraced, can provide many clues to earth's awakening. Golden moss that anchors the blooming flowers, tree branches sprouting summer layers. A rain jacket that moves with me, steals the show and anchors me in so I'm able to fully wrap in the experience – that's key. It's a cherished hug from myself, to myself.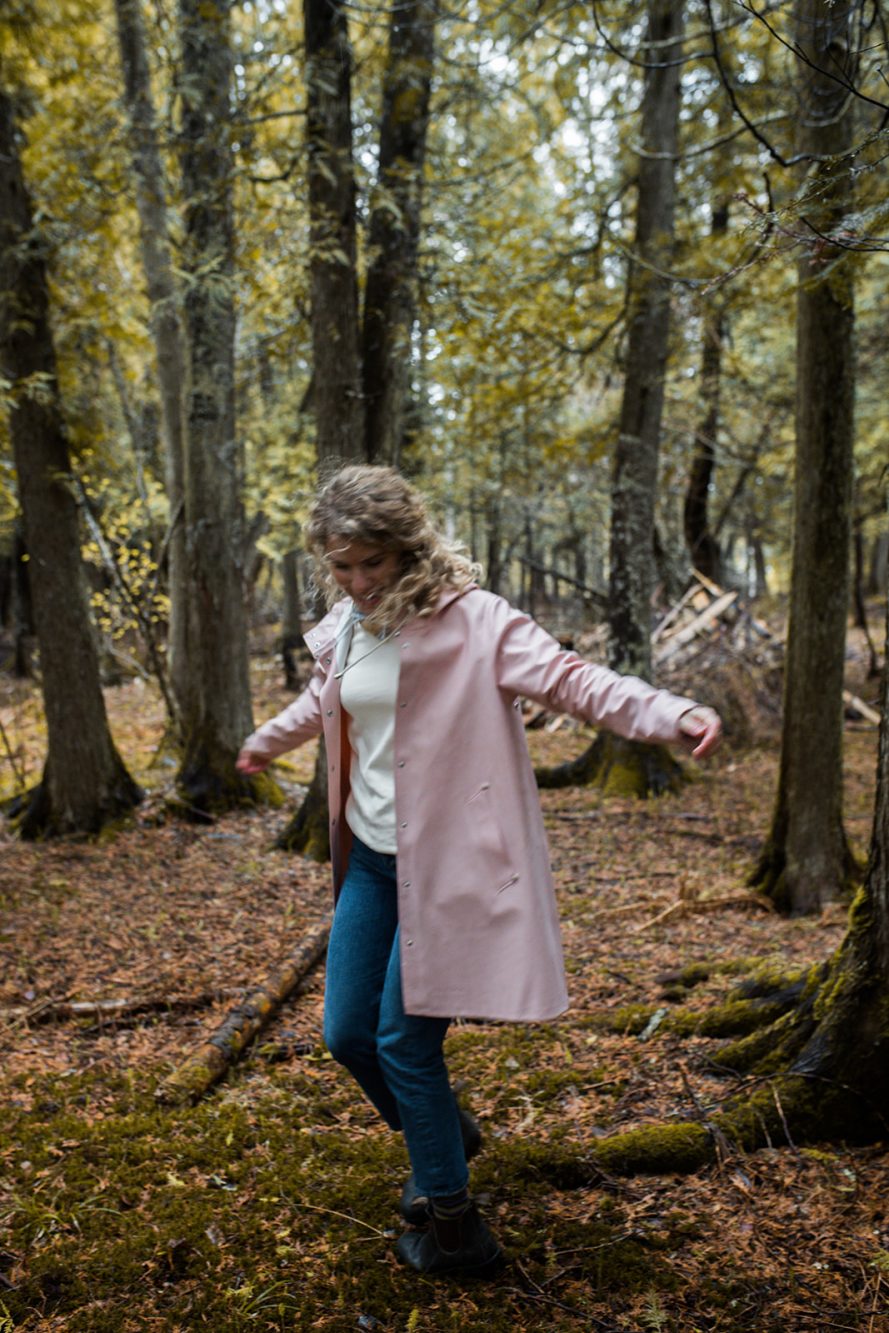 There's something to be said about the simple, functional, and timeless. Wearing a Stutterheim is an embrace of nostalgia, one that sends me back to my roots, back to days past of play and purity. Maybe it's the highest quality materials, the rigorous testing, the flowy silhouettes, the earthy colors. They're guaranteed to make you feel held, childlike, ready to dance on the edges of the wilderness or prance down the street in style. Perhaps it really is what Stutterheim calls, "Swedish Melancholy at its Driest." European function meets handmade beauty, ready to be put to the test.
There aren't many things I know for sure, but one of them is this: you can love pretty colors and also muddy boots. You can invite the grass stains yet collect quality and beauty. My Stutterheim from Brightwater is my safe place in storms. My warm embrace when I need a classic, tried-and-true layer. It's there for it all. Just like nature flowing with the seasons of time, it flows with me. For me.
Written in partnership with Brightwater Clothing & Gear.